Interview with Maria Accardi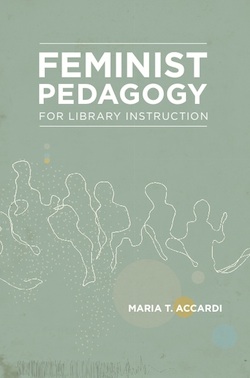 Here is an interview that Emily Drabinski did with Maria Accardi. Maria has a book coming out this summer with Library Juice Press, in the series that Emily edits….
Maria T. Accardi is Associate Librarian and Coordinator of Instruction at the Indiana University Southeast Library in New Albany, Indiana, a regional campus of Indiana University Bloomington. She holds a BA in English from Northern Kentucky University, an MA in English from the University of Louisville, and an MLIS from the University of Pittsburgh. She served as a co-editor of and contributor to Critical Library Instruction: Theories and Methods (Library Juice Press, 2010), and is the author of the forthcoming Feminist Pedagogy for Library Instruction (Library Juice Press, 2013). Prior to entering librarianship, Maria taught first year college composition and tutored in a university writing center, and these experiences inform her current practice as a librarian instructor.
1. Why feminist pedagogy? What brought you to this topic for a book?
I came to this topic in part because I wanted to know more about feminist teaching and learn something new, and also because I wanted to contribute to the scholarship in my profession. I am a feminist who is interested in critical, liberatory teaching methods, so bringing together feminism and teaching seemed like a natural place to start an exploration. Sharon Ladenson began the conversation about feminist pedagogy and library instruction in Critical Library Instruction: Theories and Methods in 2010, and I wanted to engage with and extend this conversation by providing theoretical frameworks and practical strategies for people interested in feminist library instruction. Also, I really wanted to just write a book to see if I could. Apparently, I can!
2. What should readers expect when they crack the spine of Feminist Pedagogy?
Readers should expect a combination of practitioner's primer, scholarship, and memoir. I didn't set out to write a genre-bending book, but as I engaged with the feminist literature, listened to my own voice as a writer, and found nurturing support through you, my editor, I had a real breakthrough and realized that this boundaries-straddling approach was the only way I could write this book. So readers should expect a book that doesn't neatly fit into the typical categories of literature in our field. Readers should also expect a book that is designed to be participative; there are practical teaching strategies and ideas in the appendices that invite, and, I hope, inspire readers to enact feminist pedagogy in their own practice.
3. What did you learn about your own teaching practice as you wrote the book?
When I wrote about the importance of self-care for the feminist teacher, I realized that I was doling out advice that I needed to take myself. Feminist teaching is hard. It is emotionally and intellectually demanding. I learned that I need to give myself permission to take a break, go easy on myself, to be honest and reflective without beating myself up. This fall, when library instruction season starts up once again, I plan to carve out time to keep a reflective journal about my teaching practices as a method of self-care.
4. When you've presented on this work before (ACRL 2013), people have noted the connections between the kind of instruction they're already engaging and the feminist approaches you discuss in the book. Why do you think it's important to name some of these practices as explicitly feminist?
I think it's important to acknowledge these things as feminist because this is how we expose the intersecting societal oppressions that are replicated and reified in the classroom. When we make explicit was is normally tacit, we help equip students to transform themselves and their lives. Feminist pedagogy wants students to become not just critical thinkers but critical actors.
5. What else should readers know about the book?
As I say in my Acknowledgements, I have always wanted to be a writer, ever since I was a little girl and wrote a poem to read at my school talent show. Writing this book is truly a dream come true, and it is maybe the bravest thing I've ever done. This book represents me intellectually and emotionally and it is scary to release it into the world for people to read. I just hope that people will find the book to be engaging, useful, interesting, and, dare I say it? Inspirational. I hope that it is the beginning of many exciting conversations about feminist library instruction and while I'm simultaneously terrified, I can't wait to see what happens once people read it.