New book: Topographies of Whiteness: Mapping Whiteness in Library and Information Science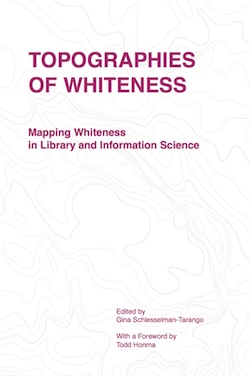 Topographies of Whiteness: Mapping Whiteness in Library and Information Science
Editor: Gina Schlesselman-Tarango
Price: $35.00
Published: September 2017
ISBN: 978-1-63400-022-2
350 Pages
Exploring the diverse terrain that makes up library and information science (LIS), this collection features the work of scholars, practitioners, and others who draw from a variety of theoretical approaches to name, problematize, and ultimately fissure whiteness at work. Contributors not only provide critical accounts of the histories of whiteness – particularly as they have shaped libraries and archives in higher education – but also interrogate current formations, from the policing of people of color in library spaces to imagined LIS futures. This volume also considers possibilities for challenging oppressive legacies and charting a new course towards anti-racist librarianship, whether in the classroom, at the reference desk, or elsewhere.
Gina Schlesselman-Tarango is an Instructional Services and Initiatives Librarian at California State University, San Bernardino. She facilitates critical information literacy opportunities for students and faculty, teaches a first-year seminar course, provides reference services, and is a collection development liaison to sociology, criminal justice, and gender and sexuality studies programs. She holds a BA in sociology/anthropology, a master's of social sciences, and an MLIS. Her research interests include gender and race in LIS, critical information literacy, and feminist navigations of infertility.
This book is number two in the Litwin Books/Library Juice Press Series on Critical Race Studies and Multiculturalism in LIS, Rose L. Chou and Annie Pho, series editors.
Available from Amazon.