New book: The Psychology of Librarianship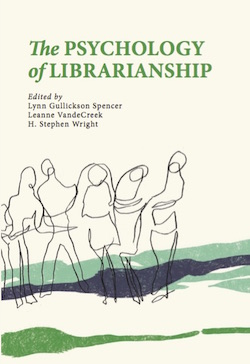 The Psychology of Librarianship
Editors: Lynn Gullickson Spencer, Leanne VandeCreek, and H. Stephen Wright
Price: $45.00
Published: November 2015
ISBN: 978-1-63400-016-1
406 pages
Printed on acid-free paper
Available for pre-order now on Amazon…
The Psychology of Librarianship is a collection of scholarly essays on the role of psychology in libraries and library work. It is the first book-length, in-depth study of the psychological implications and underpinnings of the library profession. Although there have been occasional articles about the psychological dimensions of library work, there has never been a book that attempts a broader and more comprehensive examination of this topic.
Psychology is a factor in virtually every aspect of librarianship. Beyond the expected psychological issues inherent in any organization, there are psychological dimensions that are unique to library work. The Psychology of Librarianship addresses both of these: how traditional organizational psychology applies to librarianship, and how library work involves unique psychological situations. The thirteen essays examine topics such as the role of social psychology in information literacy, the problems of stereotypes within the library profession, addictions and the library, and technology anxiety. The Psychology of Librarianship focuses attention on this heretofore neglected aspect of libraries, and provides signposts for future research.
Lynn Gullickson Spencer is a music cataloger at North Park College and a cataloger at Wilmette Public Library; she is also a Licensed Clinical Professional Counselor at LifeCare Counseling & Wellness in Glen Ellyn, Illinois. She was formerly Head of Technical Services at Wheaton College; she holds an M.L.S. from Indiana University, an M.M. in Music History and Literature from Northwestern University, and an M.A. in Clinical Psychology from Wheaton College.
Leanne VandeCreek has been the Psychology Reference Librarian at Northern Illinois University since 2000. Prior to receiving her M.S.L.I.S., she earned an M.S.W. and was a practicing Clinical Social Worker for 6 years.
H. Stephen Wright is an Emeritus Professor at Northern Illinois University (retired 2012), formerly Catalog Librarian at NIU. He previously held the positions of Associate Dean for Public Services, Head of Branch Libraries, and Music Librarian. His previous publications include A Research Guide to Film and Television Music in the United States, with Jeannie Gayle Pool (Scarecrow, 2011) and Film Music at the Piano (Scarecrow, 2003).