NEW: The Feminist Reference Desk: Concepts, Critiques, and Conversations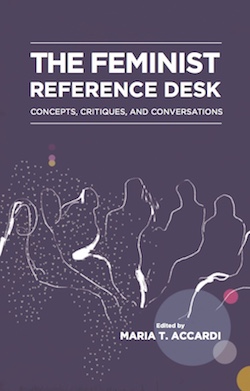 The Feminist Reference Desk: Concepts, Critiques, and Conversations
Editor: Maria T. Accardi
Price: $35.00
Published: October 2017
ISBN: 978-1-63400-018-5
Number eight in the Litwin Books Series on Gender and Sexuality in Information Studies, Emily Drabinski, Series Editor
Feminist pedagogy employs strategies such as collaborative learning, valuing experiential knowledge, employing consciousness-raising about sexism and other forms of oppression, and destabilizing the power hierarchies of the traditional classroom. Ultimately, feminist library instruction seeks to empower learners to be both critical thinkers and critical actors who are motivated and prepared to bring about social change. The concept of feminist pedagogy has recently energized current conversations on library instruction, so it is fitting and timely to consider how feminism might intersect with another vital student-centered service the academic library provides: the reference desk. Inspired by the ideas, possibilities, and discussions set in motion by Maria T. Accardi's Feminist Pedagogy for Library Instruction (2013), this edited collection continues these conversations by considering how feminist strategies and philosophies might reshape, invigorate, and critique approaches to reference services. In short, this collection will provide critical and thought-provoking explorations of how academic librarians might rethink central reference concepts and services, from the reference interview, to the reference collection, to the staffing of the reference desk itself, from a feminist perspective.
About the Editor: Maria T. Accardi is the author of Feminist Pedagogy for Library Instruction (2013), for which she received the 2014 ACRL WGSS Significant Achievement Award, and a co-editor of Critical Library Instruction: Theories and Methods (2010). She is Associate Librarian and Coordinator of Instruction and Reference at Indiana University Southeast in New Albany, Indiana.
This book is now Available on Amazon.