New Title: Information Literacy and Social Justice: Radical Professional Praxis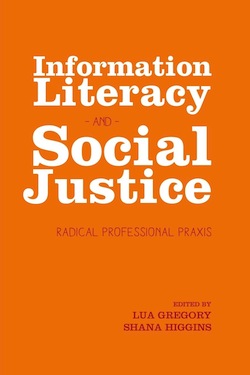 Information Literacy and Social Justice: Radical Professional Praxis
Editors: Shana Higgins and Lua Gregory
Price: $32.00
Published: September 2013
ISBN: 978-1-936117-56-7
Information Literacy and Social Justice: Radical Professional Praxis extends the discussion of information literacy and its social justice aspects begun by James Elmborg, Heidi L.M. Jacobs, Cushla Kapitzke, Maria T. Accardi, Emily Drabinski, and Alana Kumbier, and Maura Seale. Chapters address the democratizing values implicit in librarianship's professional ethics, such as intellectual freedom, social responsibility, and democracy, in relation to the sociopolitical context of information literacy. Contributors, ranging from practicing librarians to scholars of related disciplines, demonstrate how they construct intentional connections between theoretical perspectives and professional advocacy to curriculum and pedagogy. The book contributes to professional discourse on libraries in their social context, through a re-activation of the library neutrality debate, as well as through an investigation of what it means for a global citizen to be information literate in late capitalism.
This book is available through Amazon.com or your library's book jobbers.
Download a PDF of the front matter, including the title page, copyright page, table of contents, acknowledgments, foreword, and introduction.